Lana Rak selected for 2005 San Luis Obispo PleinAir Festival
For immediate release
August 22, 2002
This year, once again, Lana Rak was selected among a group of top artists to participate in the 2005 PleinAir Festival in San Luis Obispo, California.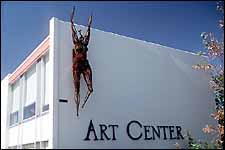 For one week, artists will paint beaches, barns, boats, vineyards and other scenic landmarks of California Central Coast. Then, every artist will select three of their best paintings for the Gala Exhibition and Silent Auction that will be held Sat, Oct 8 from 6:00pm to 9:00pm at the San Luis Obispo Art Center.
A Quick Draw and Live Auction, on the nearby old Spanish mission grounds, will add to the festivities. From 10am to Noon, on Sat, Oct. 8, artists race to complete a painting, frame it and put it on display. There will be a live auction of these wet and wonderful paintings beginning at Noon in the Mission Plaza's amphitheater.
"Last year I really enjoyed the competition and all the festivities", says Lana Rak. "The event was organized extremely well and I think that reflected in the success of my "Quick Draw" piece during the live auction. I expect this year's competition to be fully outstanding, too, to the artists as well as to the public. I'm really looking forward to meeting a lot of art admirers again and San Luis Obispo is a great place to visit."
About Lana Rak
Lana Rak is a member of the Oil Painters of America and Northwest Watercolor Society. Her artwork has won Third Prize at the 2004 National Exhibition Impact Artists' Gallery in Buffalo, New York, Grand Prize at the Art Experience Art21 Gallery in Palo Alto, California. In 2003 she was honored as the recipient of a scholarship from the American Society of Portrait Artists. Lana studied art at the Republican School of Art of Schevchenko in Kiev, Ukraine, Langara College in Vancouver, Canada and the Academy of Art University in San Francisco, where she is currently studying for an MFA. Lana lives in Fremont, California.
About San Luis Obispo Art Center
San Luis Obispo's community art center in Mission Plaza features the work of many of the region's most talented amateur and professional artists.
For more information please contact:
Lana Rak
Artist's website:
http://www.lanarak.com
Please see website for contact information
San Luis Obispo Art Center
Website:
http://www.sloartcenter.org
Tel: (805) 543-8562
E-mail:
director@sloartcenter.org
1010 Broad Street (at Monterey)
San Luis Obispo, CA 93401