Lana Rak featured in the "Southwest Art" magazine
For immediate release
August 22, 2005
September, 2005 issue of the "Southwest Art" magazine features Lana Rak in the "Artist to Watch" section of this issue.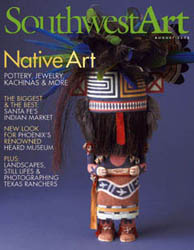 "Yes, I'm happy such a well-respected art magazine has noticed my work and my painting style&quot, says Lana Rak. "I'm sure my ongoing new work will draw even more attention from magazines and art collectors."
About Lana Rak
Lana Rak is a member of the Oil Painters of America and Northwest Watercolor Society. Her artwork has won Third Prize at the 2004 National Exhibition Impact Artists' Gallery in Buffalo, New York, Grand Prize at the Art Experience Art21 Gallery in Palo Alto, California. In 2003 she was honored as the recipient of a scholarship from the American Society of Portrait Artists. Lana studied art at the Republican School of Art of Schevchenko in Kiev, Ukraine, Langara College in Vancouver, Canada and the Academy of Art University in San Francisco, where she is currently studying for an MFA. Lana lives in Fremont, California.
About Southwest Art magazine
The work of the West's most accomplished artists come to your home in the pages of Southwest Art. Each issue profiles the artists of the Southwest and looks at their work and what to expect in the upcoming times. Written for collectors, dealers and art enthusiasts of all levels.
For more information please contact:
Lana Rak
Artist's website:
http://www.lanarak.com
Please see website for contact information
Bonnie (last name?)
Southwest Art Magazine
Tel: (713) 296-7900
Email:
southwestart@southwestart.com
5444 Westheimer, Ste. 1440
Houston, TX 77056