Lana Rak's Show "Tango" to open at Salisbury Fine Art
For immediate release
September 20, 2006
Lana Rak is pleased to announce that her Fall 2006 show will open October 21st and will run through November 26th, 2006 at Salisbury Fine Art gallery in Avila Valley, California.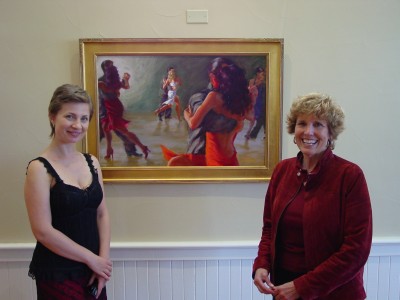 Artist's Reception will be held on Sunday, October 21, 2006, from 1:00pm to 4:00pm.
"We will have live music and professional tango dancers to demonstrate the tango moves and to celebrate the opening of Lana's new show devoted to the tango theme", says Maridel Salisbury, owner of Salisbury Fine Art gallery.
"Shortly after the birth of my daughter, I read an article called 'Love' in the February issue of the National Geographic", says Lana Rak. "The image of the young lovers in the passionate embrace on the front page had caption: 'Courtship at a tango bar in Argentina: First talk, then touch, then moving in perfect rhythm.'
At that time I was collecting materials about Argentinean tango dancers, and the last place I would expect to find it was the National Geographic. What a luck!
The content of this article impressed me just as much as the front page, as many ideas presented in this article coincided with my own observations. The author was surveying broadly but accurately the different aspects of love, giving some examples from her own life experience.
This article shook me like an earthquake, generating a tsunami like emotional urge to produce artwork.
I didn't want to illustrate literary courtship and love; instead I wanted to concentrate on the emotional aspect of this overwhelming feeling, expressing it allegorically through the language of colors and brush stocks.
First I envisioned the color theme for this show. I imagined richly warm colors: glowing reds and golden browns accentuated by greens and blues. The short ala prima sessions with the impasto (thick) paint application would be the best choice to express passion and movement of the dancing couples.
The body language is the most expressive for conveying human emotions, so in many of my pieces I deliberately sacrificed the depiction of the facial features, as it usually distracts the viewer's attentions and breaks the rhythm of the whole painting.
I worked in the short sessions carefully planning my compositions and designs in advance. Whenever I was unsure of my choices of poses and design, I would test my ideas in a small painting. Many of those small paintings turned into successful pieces and are included in the show.
The greatest challenge was to execute this project, but despite all of my professional and personal challenges, I was pleased with the result of my hard work just as much as with the process of producing it. I hope you will enjoy my show just as much as I loved creating it.", says Lana Rak.
About Lana Rak
Lana Rak's artwork has won Third Prize at the 2004 National Exhibition Impact Artists' Gallery in Buffalo, New York, Grand Prize at the Art Experience Art21 Gallery in Palo Alto, California. An article about Lana Rak was published in September'05 issue of Southwest Art magazine. Lana studied art at the Republican School of Art of Schevchenko in Kiev, Ukraine, Langara College in Vancouver, Canada and the Academy of Art University in San Francisco, where she is currently studying for an MFA. Lana lives in Fremont, California.
About Salisbury Fine Art
Salisbury Fine Art gallery is located in the heart of California Central Coast. The gallery moved recently and now occupies a beautifully renovated larger and more convenient location shared with Salisbury wine cellar next door. The gallery represents multiple artists and has been very successful in promoting art and bringing the best artists to California Central Coast.
For more information please contact:
Lana Rak
Artist's website:
http://www.lanarak.com
Please see website for contact information
Maridel Salisbury
Salisbury Fine Art
Tel: (805) 595-9463
E-mail:
salisburyfineart@charter.net
6985 Ontario road
Avila Valley, CA 93405